Red Sox: Looks like the Yankees also "cheated" by stealing signs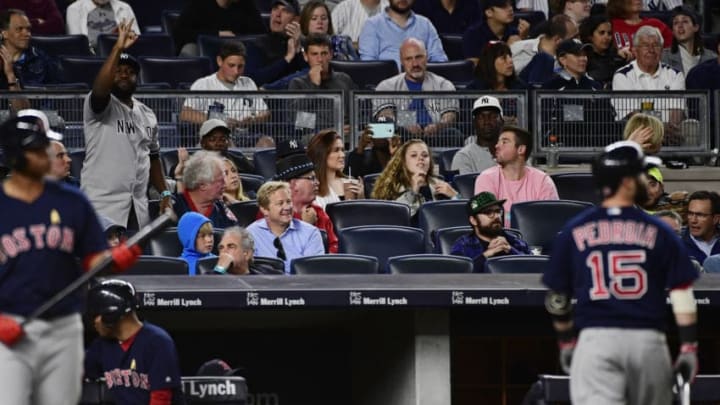 NEW YORK, NY - SEPTEMBER 01: A Yankee fan (L) heckles Dustin Pedroia /
According to reports, the Boston Red Sox have presented evidence to the MLB commissioner that the Yankees used the televised broadcast to steal signs.
The Boston Red Sox were the first team to be blown up for violating a rule about stealing signs. The reports and violation stemmed from Red Sox players using Apple Watches to steal signs from the Yankees. Now, just a few days later, Boston has provided evidence to Major League Baseball that the New York Yankees were stealing signs from them.
Boston's evidence shows via video that the Yankees players were using the televised broadcast to steal signs while the game was going on. According to their evidence, Yes Network, the exclusive network for Yankees games, was aligning their cameras to show Red Sox bench coach, Gary DiSarcina.
DiSarcina, according to ESPN, was gesturing signs to a pitcher and then the Yankees players were using that information. The Red Sox after becoming aware of this, moved DiSarcina from his original position. Boston says this is not the first time that particular camera angle was used by Yes Network but this is the first time they were able to produce the necessary evidence.
On Tuesday, Yankees manager Joe Girardi denied the allegations. He also told the Daily News that it was, "complete nonsense."
According to ESPN, the MLB commissioner's office has been aware of this issue regarding the Red Sox and the Yankees for a few weeks but wanted to keep it out of the public's eye. However, the New York Times went ahead and published their report of the Red Sox using Apple Watches and other electronic devices to steal signals from the opposing teams.
Next: David Price to face live hitters Saturday
According to MLB rules and regulations, the use of electronic devices in the dugout is strictly prohibited and if we look at both the Red Sox and the Yankees' cases, both organizations are in violation of that rule. MLB Commissioner Rob Manfred has yet to determine the penalties for each violation and it will be interesting to see how harsh they are. Some fans want extremely harsh penalties while others do not believe stealing signs is truly cheating.