Red Sox: Jerry Remy agrees to multi-year deal with NESN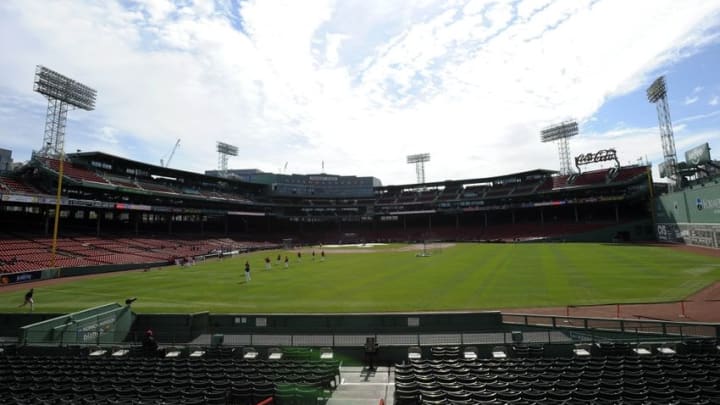 May 10, 2016; Boston, MA, USA; The Boston Red Sox warm up prior to a game against the Oakland Athletics at Fenway Park. Mandatory Credit: Bob DeChiara-USA TODAY Sports /
NESN announced that Jerry Remy has signed a multi-year agreement to continue as the primary color analyst for Boston Red Sox broadcasts.
The RemDawg is here to stay. NESN announced on Wednesday that they have reached an agreement with Jerry Remy on a multi-year deal to remain the primary Boston Red Sox color analyst.
Remy's new deal will have him working 115 Red Sox games each season. The 64-year old has seen his workload lightened a bit in recent years, with other former players such as Dennis Eckersley and Steve Lyons occasionally filling in. We should expect to see those NESN talents during broadcasts again this season, likely during long road trips, but Remy will be covering the vast majority of the games.
There had been some concern that NESN would consider moving on from their long-time color analyst after ousting the beloved Don Orsillo last year. On the heels of a pair of last place finishes by the Red Sox, NESN looked to shake things up in an effort to salvage their sinking ratings. Fans wondered if Remy could be the next casualty, but with Boston bouncing back to make the postseason in 2016 there is less incentive for drastic changes.
More from Red Sox News
Dave O'Brien did a fantastic job as the new play-by-play man, but he hasn't quite developed the same rapport with Remy that his predecessor had. The witty banter between Remy and Orsillo was once a staple of Red Sox broadcasts that provided an entertaining experience even when the game itself was a blowout that would otherwise cause fans to tune out. With a year of experience under their belts, O'Brien and Remy should continue to build chemistry together and NESN's commitment to Remy shows they are confident in the pairing.
Which means Remy isn't going anywhere anytime soon.
""I'm very excited and pleased to be able to continue doing the job that I love, now heading into my 30th year and beyond with NESN," said Remy. "I want to thank NESN and the Red Sox for all their support in the past and going forward.""
Remy has been associated with the Red Sox for nearly 40 years, first joining the organization as a player in 1978 when he was traded from the California Angels. The Somerset, Mass. native made the All-Star team during his first season in Boston and spent seven solid seasons with the franchise before a knee injury forced him to retire in 1985.
After his playing days were over, Remy worked as a minor league coach in the Red Sox farm system before joining NESN as a broadcaster. Remy has covered over 3,900 games as the color analyst on NESN over the past 29 years.
In 2007, Remy was named as the President of Red Sox Nation, winning the election in a landslide. He remains popular with the fan base, with over half a million Twitter followers – more than most of the team's current players!
Next: Is this it for Brian Johnson?
The Red Sox have added a lot of new pieces to the roster in recent years, while last fall we waved goodbye to the iconic David Ortiz. Casual fans may not recognize some of the current players, but at least they will have a familiar face in Remy to tune into during the game.