Red Sox: Worst infielders in franchise history at each position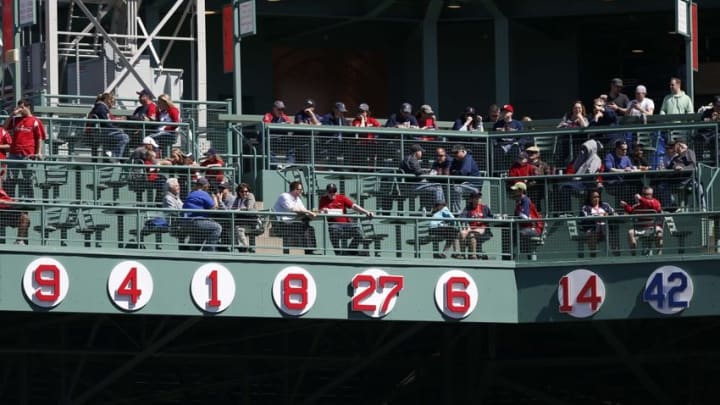 Apr 15, 2015; Boston, MA, USA; The number 42 hangs on the right field wall along with other numbers retired by the Boston Red Sox in honor of Jackie Robinson during the second inning against the Washington Nationals at Fenway Park. Mandatory Credit: Greg M. Cooper-USA TODAY Sports /
Catcher
The Red Sox have enjoyed some decent backstops in my memory banks. When I started following the team the main man was Sammy White. White was an above average receiver with a nice swing who caught over 1,000 games for Boston.
More from Red Sox History
You could certainly cherry pick some, such as Russ Gibson, who didn't hit much, but Gibson had a strong-arm and was an excellent defensive backstop. A cheap shot could be taken and Haywood Sullivan be mentioned, but I will resist that and go back to the 1960s and target Bob Tillman.
Big things were expected of Tillman since he had one attribute that the Red Sox searched out – he was a big right-handed hitter with great power potential. Usually, a bat can hide some defensive deficiencies, but in the case of Tillman, a career average of .236 with Boston dashes that. Tillman did hit 17 home runs one season, but that was his high water mark for power.
The Red Sox pitching staff of the early 1960s probably deserved Tillman. What stands out with a recent check was his career 24 CS%. Today that might be somewhat palatable, but not in that era. Tillman from my recollection was no Fred Astaire behind the plate and appeared somewhat boxy in his moves.
Next: Expectations for Sandoval
The combination of poor as in poor defense and poor hitting soon had Tillman sent elsewhere.
Sources: Baseball-reference