Red Sox: Worst infielders in franchise history at each position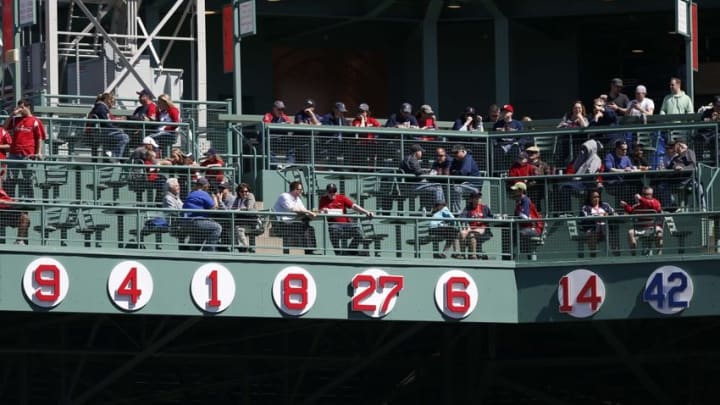 Apr 15, 2015; Boston, MA, USA; The number 42 hangs on the right field wall along with other numbers retired by the Boston Red Sox in honor of Jackie Robinson during the second inning against the Washington Nationals at Fenway Park. Mandatory Credit: Greg M. Cooper-USA TODAY Sports /
Short Stop
Don Buddin was supposed to be the Red Sox shortstop for ten years. A product of the Yawkey checkbook with a reported $50,000 bonus. Buddin surfaced in Boston as a 23-year-old in 1956 hitting .239. After a one-year military stint, it was back to Boston.
The next four seasons were a long story of atrocious play by Buddin. The nicknames proliferated and by favorite was "Bootin' Buddin." The errors came in all shapes from the juggling of a routine one-hop grounder to a dynamic stop in the hole only to heave the ball somewhere into right field.
Bad fielding can be accepted, but bad hitting cannot. Buddin just could not hit. His career average iwith Boston was .244 and his projected right-hand power never materialized. Buddin did finish his Fenway career with a .269 average at home, but more was expected. Why he never got untracked is a mystery since he appeared to have the talent, but never managed to put it all together.
For several seasons the double play partner for Buddin was Pete Runnels. Runnels actually played as many games at first base and if you saw him play second you would understand why. A great hitter – especially at Fenway Park – but well below average in the field.
Without any hesitation, I would say the worst double-play combination I saw in Boston was Buddin and Runnels.