Red Sox: Worst infielders in franchise history at each position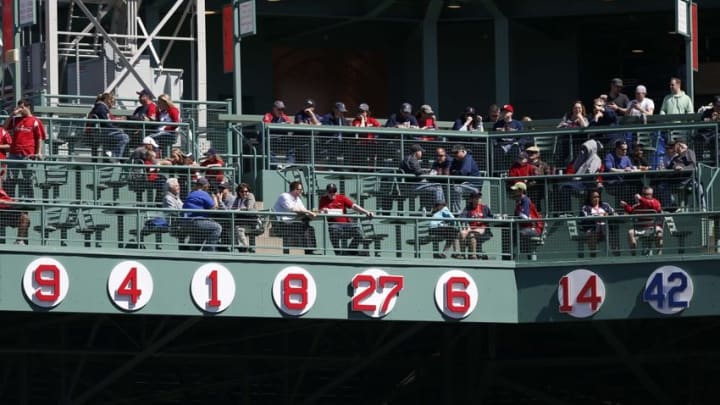 Apr 15, 2015; Boston, MA, USA; The number 42 hangs on the right field wall along with other numbers retired by the Boston Red Sox in honor of Jackie Robinson during the second inning against the Washington Nationals at Fenway Park. Mandatory Credit: Greg M. Cooper-USA TODAY Sports /
Third Base
Butch Hobson was totally useless at third base. Think Pablo Sandoval was bad in 2015? In 1978 Hobson made 43 errors while stationed at third base. That season I had the opportunity to witness many a game from the grandstand along third base. Lucky me. If I was on the opposite side of the field I may have had to have worn a batting helmet for protection against Hobson tosses.
Hobson did not have a single strength in the field. He was capable of botching a ball to his right or left with equal aplomb. His strong-arm was entertaining on tosses to second where invariably it went to the left of Jerry Remy – a perfect position for Remy to be dismantled by a base runner.
In an attempt to be fair and balanced Hobson would get into defensive streaks of competence and incompetence – much like a hitter enjoying a bevy of hard hits followed by a languishing of absolutely nothing. Hobson would make some amazing Brooks Robinson style plays, but often the result was an errant throw.
Hobson at bat was a venture unto itself. A powerful right-handed hitter capable of home runs in bunches. The downside was Hobson was also quite capable of strikeouts in bunches.