Red Sox: Worst infielders in franchise history at each position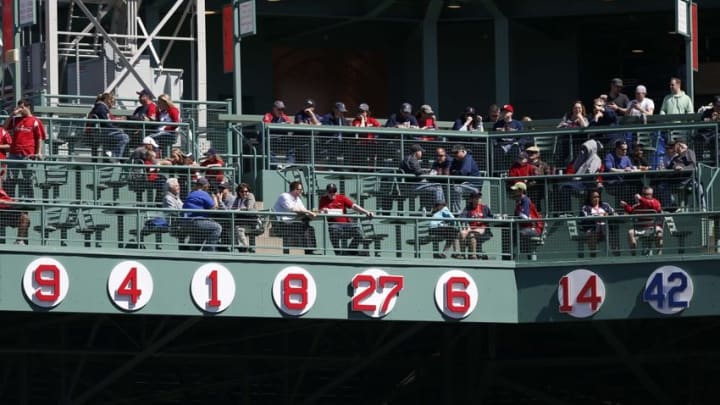 Apr 15, 2015; Boston, MA, USA; The number 42 hangs on the right field wall along with other numbers retired by the Boston Red Sox in honor of Jackie Robinson during the second inning against the Washington Nationals at Fenway Park. Mandatory Credit: Greg M. Cooper-USA TODAY Sports /
First Base
Dick Stuart was awful in the field. Just the nicknames of "Stone Fingers" and "Doctor Strange Glove" should be a clue. Stuart had range, but never used it. Stuart also refined the matador style to a ground ball that became an art form. Pitchers absolutely despised Stuart. How much?
More from Red Sox History
In 1963 – Stuart's first season in Boston – he was going for the home run title against Harmon Killebrew of the Twins. The Twins came to Boston for a late season three-game set and Killer hit five out. In the first game of the series, he blasted three and the one I remember was late in the game against Arnold Earley.
Earley was a hard throwing lefty and he tossed Stuart a muffin that I could hit. The next two games saw two more dingers and Killebrew won the title 45-42. Stuart could do one thing with spectacular results – hit towering home runs and it showed with his insatiable ego.
With the Pittsburgh organization, a young Stuart hit 66 home runs one season in the low – very low – minors. After that, Stuart had a penchant for signing his autograph Dick "66" Stuart. Two seasons and it was out-of-town for Stuart.