Boston Red Sox trade target: Evan Gattis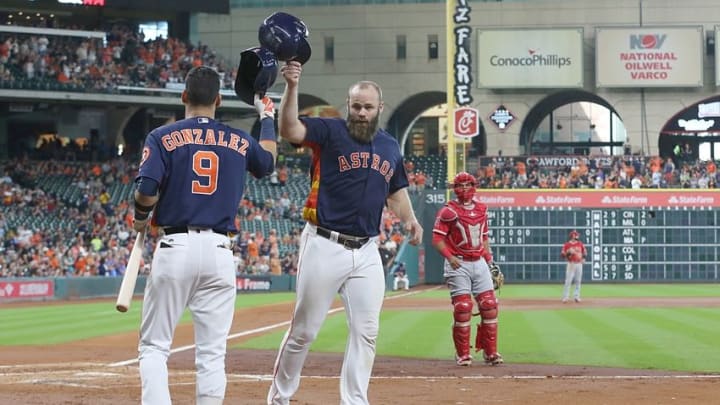 Sep 25, 2016; Houston, TX, USA; Houston Astros first baseman Marwin Gonzalez (9) congratulates catcher Evan Gattis (11) after hitting a home run against the Los Angeles Angels in the second inning at Minute Maid Park. Mandatory Credit: Thomas B. Shea-USA TODAY Sports /
The Boston Red Sox have an opportunity to trade with Houston for a DH. Evan Gattis could be available for the right pitching price.
The Boston Red Sox designated hitter checklist is being slowly reduced now that a collective bargaining agreement is in place. The check that recently took place was by courtesy of the Houston Astros that gave Carlos Beltran a one-year deal for $16 Million. That figure could be the low-end of the pay scale for a few of the options that remain that may interest the Red Sox.
The most promising of bats are from Toronto, where Edwin Encarnacion last resided as a slugger in residence. Encarnacion has placed his value or one of his agents/representatives have at 5-years, $120 Million. An attention-getting figure and one that just may have resulted in the Red Sox shopping elsewhere.
Toronto also has another former home run hitter on the open market in Jose Bautista. Bautista – like Encarnacion – is a noted right-hand slugger a bit long in baseball years, but still considered potent. Another candidate is Mark Trumbo – formerly of Baltimore – who also has the home run pedigree.
More from Red Sox News
There are also lesser considered names such as Chris Carter, who led the National League in home runs and in strikeouts. Carter hits bombs, but the swing and miss are frustrating to watch. A ditto to swing and miss is Mike Napoli, but Naps also walks frequently and can play a decent first base.
The Red Sox are also playing the coy and bashful date by saying they will solve the issue internally with a DH by committee. Is that negotiation strategy or a new company policy? There is another option and that is checking in with Houston on their former DH – Evan Gattis.
Gattis is a big – and I do mean big as in the National Football League big – who has dabbled at catcher and left the field. Last season the 29-year-old right-hander swatted 32 home runs and slashed .251/.319/.508. Gattis is signed for $5.2 Million for 2017 and is eligible for arbitration in 2018. Quite manageable figures.
The smart play would be for Houston to hold since Beltran may be one and out. Beltran is also 40-years-old and that is Methuselah in baseball years. A minor injury at that age could be catastrophic, so insurance is necessary and that means holding Gattis. Gattis has also been a bit versatile and does offer some flexibility for the Astros so getting him would certainly be a management task.
Houston needs pitching and they certainly do not stand alone on that. Boston has some pitching available and that would mean the possibility of enticing Houston with Drew Pomeranz. Pomeranz has had some historical issues at Minute Maid with a career 1-2 record and 4.95 ERA.
Next: Boston Red Sox: Hanley Ramirez wants to be part of DH rotation
Gattis would give Boston with a right-hand bat that is always a plus to have at Fenway Park. The potential to fill in at catcher or first base could also offer up some trade possibilities for Boston. Pomeranz is one who is viewed as somewhat expendable and the change in scenery may be beneficial. A potential deal? Worth a look.
Sources: Baseball-Reference