Boston Red Sox end of the line players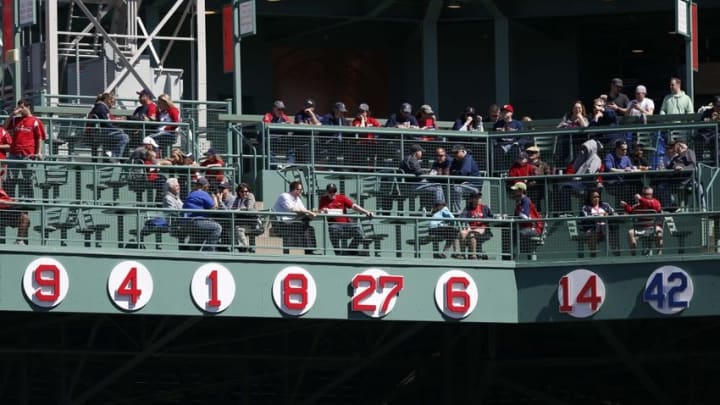 Apr 15, 2015; Boston, MA, USA; The number 42 hangs on the right field wall along with other numbers retired by the Boston Red Sox in honor of Jackie Robinson during the second inning against the Washington Nationals at Fenway Park. Mandatory Credit: Greg M. Cooper-USA TODAY Sports /
May 18, 2015; Los Angeles, CA, USA; Los Angeles Football Club owner Nomar Garciaparra speaks at a press conference at Exposition Park to announce the intent to build a 22,000 soccer stadium at the site of the Los Angeles Memorial Sports Arena. Mandatory Credit: Kirby Lee-USA TODAY Sports /
Bad karma brought back
The close out is Buckner, who returned to Boston in 1990 in a move that made no sense. The bitterness of 1986 still lingered strongly and Buckner – through no fault of his own – would be a constant reminder of that miserable moment. Thankfully, Buckner was greeted with a standing ovation for his first Boston game.
Buckner hit only .186 but did manage an inside the park home run – his only home run of the season. I was at that game and had tickets in Section Ten in right field and that homer deserves an asterisk. The right fielder fell into the grandstand in front of us and by the time he'd recovered Buckner – gimpy wheels and all – had his home run.
Next: Red Sox don't need Jose Bautista as much as Blue Jays
There are some others who returned but didn't play such as Nomar Garciaparra, who signed a one-day contract to retire as a member of the Red Sox. Nomar – like Pedro Martinez – left Boston with a certain degree of negativity on the part of player and management, but as time passes on the negativity is reduced and the positive accentuated.