Boston Red Sox end of the line players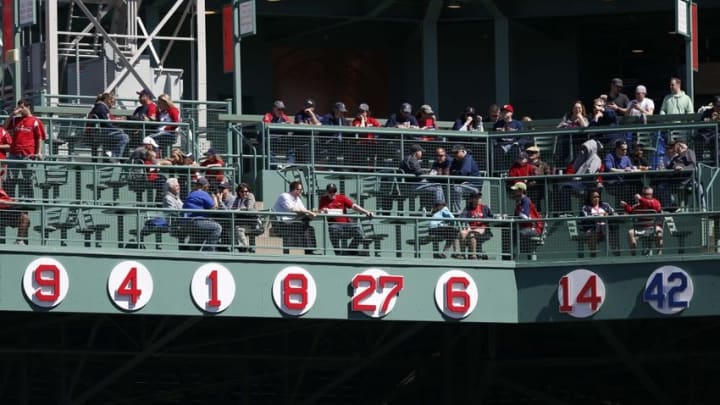 Apr 15, 2015; Boston, MA, USA; The number 42 hangs on the right field wall along with other numbers retired by the Boston Red Sox in honor of Jackie Robinson during the second inning against the Washington Nationals at Fenway Park. Mandatory Credit: Greg M. Cooper-USA TODAY Sports /
Jul 26, 2015; Cooperstown, NY, USA; Hall of Famer Tom Seaver waves to the crowd after being introduced during the Hall of Fame Induction Ceremonies at Clark Sports Center. Mandatory Credit: Gregory J. Fisher-USA TODAY Sports /
The Stars
The 1967 season brought a pillar of stability behind the plate in 38-year-old Elston Howard, who had been an integral part of numerous New York Yankee championship teams. The fading Howard was a former Most Valuable Player, a nine-time All-Star, and recipient of two Gold Gloves. The consummate professional.
With Boston, Howard did little slashing a paltry .207/.279/.285 in two seasons. In 1967 Howard hit a dismal .147, but it was not his bat that made the difference. Howard was a force of stability on a young team that had no experience in the elevated atmosphere of a pennant race. Howard knew the league and knew pitchers.
I'll remember Howard for the key hit of game five of the 1967 World Series when he delivered bases loaded single in the ninth to put Boston up 3-0. Howard had only two hits in the series for a .111 batting average.
Ellie moved back to the Yankees as a coach and remained with New York until his premature death in 1980.
You would expect a player who led the league in steals nine consecutive seasons to be adept at running the bases, but this is the Red Sox before 2004. The home of pain, misery and disasters. Luis Aparicio tripped over third base contributing to a Boston loss and eventually losing to the Tigers by a one-half game in 1972.
Aparicio joined Boston for the last three years of his Hall of Fame career and made two All-Star teams. Aparicio's first season – 1971 – saw a strange occurrence when Luis went 0-44 before ending the streak with a grand slam home run. Little Louie slashed .253/.303/.320 for Boston before retiring in 1973.
In 1986 the Red Sox acquired a future Hall of Fame pitcher to help solidify their staff – a pitcher who had already won 300 games – Tom Seaver. Seaver was 41-years-old and clearly done, but still managed to go 5-7 with a respectable 3.80 ERA in 16 starts.
Seaver joined Boston from the Chicago White Sox for current Boston TV analyst Steve Lyons. Seaver attempted a comeback with the Mets the following season, but put that on hold. As another side note Roger Clemens said that Seaver was instrumental in refining Clemens pitching approach in 1986.
Gary Peters once led the American League in wins and finished off his career with three seasons in Boston. The left-handed Peters went 16-11 in his first Boston year – 1970. Peters followed with a 14-11 mark before (sorry) petering out with a 3-3 in 1972.
What attracted me to watch Peters was not his pitching, but his hitting. Peters was often used as a pinch-hitter in his career. In three years Peters slashed .250/.290/.361 with four home runs and 31 RBI. I have no idea if he was as good as a pinch runner.