Boston Red Sox end of the line players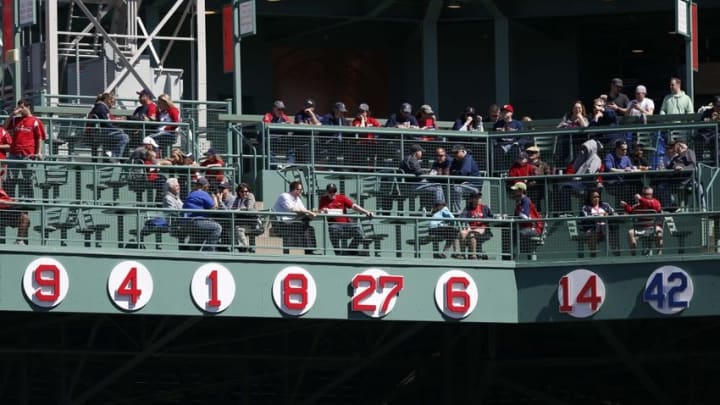 Apr 15, 2015; Boston, MA, USA; The number 42 hangs on the right field wall along with other numbers retired by the Boston Red Sox in honor of Jackie Robinson during the second inning against the Washington Nationals at Fenway Park. Mandatory Credit: Greg M. Cooper-USA TODAY Sports /
The Boston Red Sox have been the last destination of players with varying degrees of skills. A few became members of the Baseball Hall of Fame and others may stir a memory. Here are a few.
Jul 23, 2016; Cooperstown, NY, USA; Hall of Famer Tony Perez arrives at National Baseball Hall of Fame during the MLB baseball hall of fame parade of legends. Mandatory Credit: Gregory J. Fisher-USA TODAY Sports /
The Red Sox are not that unusual from other major league teams as being the end of the line for a good, mediocre or even a great career. I recently read an article about Mickey Vernon, who was an outstanding first baseball in the 1940's and 1950's. Vernon also won two batting titles so the man could flat out hit when he joined the Red Sox as a 38-year-old in 1956 and made the All-Star team, hitting .310.
Vernon's last stop was not Boston so he would not be added to my list. Stars such as Tony Perez, Don Baylor, Vic Wertz and Orlando Cepeda did not have "last call" in Boston and moved to playing out the inevitable string elsewhere as talent degrades. There are also others that made a second call to Boston and Bill Buckner stands out as he finished off his career woth a return visit in 1990.
Just who to add to the list? I had no specific criteria except that the player must have had some degree of talent, a decent MLB resume, or some possible contribution to Red Sox history.
Just how much could I remember? A few, but forgot more than a few, so I put in a demarcation line and imposed upon myself an arbitrary cutoff date of 1990. From when Vernon came to town to when Buckner left. Here are a few with some selected memories of their accomplishments.