Red Sox: Has baseball become irrelevant in Boston?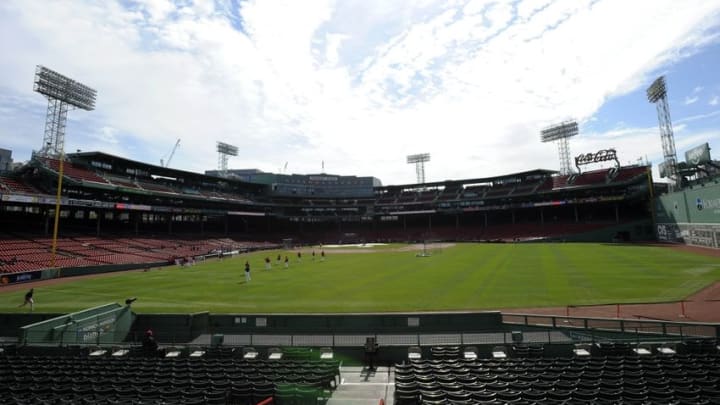 May 10, 2016; Boston, MA, USA; The Boston Red Sox warm up prior to a game against the Oakland Athletics at Fenway Park. Mandatory Credit: Bob DeChiara-USA TODAY Sports /
A talk show host recently claimed baseball and the Boston Red Sox are irrelevant. Is there any possible credence to such a claim?
Is baseball and the Red Sox "irrelevant?" That statement was recently put forward on a local sports talk show by co-host Kirk Minihane.
My exposure to the extended rant was not via the show, but provided by another show on which a few excerpts were played. Even that show was quite by accident as I have personally drifted far away from sports talk radio.
That discussion did gather in my interest since they debated the sports scene in Boston and just who is viewed as "Top Dog" in the eyes of the sporting public. Is Boston a baseball or football town? The Bruins and the Celtics – who gathers the most public attention? My reason for not flipping to a classic rock station was how do the Red Sox fit into the assertion that baseball is irrelevant – especially in Boston?
More from Red Sox News
The context was the debate over what is America's favorite sport. Obviously, that is a null argument, since it is football.  That, however, is not the topic at hand – irrelevance as it pertains to the Red Sox. My own view is the context of the word itself as having "no importance." Therefore that was applied to the Boston and New England area since the Red Sox are primarily a regional team with extended roots throughout the nation.
In the larger context, major league and minor league baseball are flourishing with attendance. International baseball is thriving, as are youth leagues. So irrelevant is somewhat displaced even in the larger scope. Certainly baseball is not suffering, but is there even a modicum of credence that baseball is irrelevant? There is still a lingering concern on the larger picture and that recently became clear in Boston's road game travels.
Red Sox Nation certainly enjoyed the recent collective sojourn to Baltimore as they accounted for at least half the announced attendance. The most interesting aspect from my view was a rather tumultuous standing ovation for Eduardo Rodriguez as he departed the game after 6.1 innings of excellent pitching.
Camden Yards is an excellent ballpark – among the very best in baseball. I have been to Camden Yards and the dreary and depressing Memorial Stadium. The ballpark is in an excellent downtown location and Baltimore – like Boston – is foot friendly to navigate. Access is far easier than Fenway Park and the ticket prices can accommodate most budgets. So where were the fans?
The place was virtually empty for a team well into the playoff hunt and featured a division opponent who you were on the heels of running down. So I could certainly "trash" the Baltimore fans, but that is counterproductive, as I well know from seeing their passion over the years. What I will note is the support Boston has delivered to their team for about 50 years. That was not always true and the Red Sox have come close to having another cities name associated with the team.
Historically the Red Sox have had their own extended moments of irrelevance if one engages in a long-term historical view.
More from Red Sox News
The 1920's and early 1930's saw a franchise on life support. Even a fire in 1926 that partially damaged Fenway Park had not been repaired. No money. No need. No one showed up anyways. From 1921 to 1937 the Red Sox never made it out of the second division. Nine times in that period it was a dead last finish including a dismal six consecutive years.
In 1932 the Red Sox attendance was 182,150. That was it for an entire season. Bob Quinn was the owner of the team for most of the mentioned time period and his problem was not one of baseball acumen, but of being severely cash strapped. Often meeting payroll was a fiscal adventure. Then a baseball angel appeared In Tom Yawkey who invested money in refurbishing the park and the on field product. However, that would nose dive after many years of success.
In the 1960's the Red Sox presented a product on the field that would be recalled if such an option was possible. The performance was represented by dwindling gate receipts and a disinterested Yawkey. From 1961 to 1966 the Red Sox failed to exceed the million mark in attendance, but then 1967 happened and we never looked back.
For fifty years the Red Sox have built a baseball powerhouse, both in performance and with attendance. This is most notably under the current ownership and throughout the new century that is starting to replicate the beginnings of the previous century.
What is notable is that attendance has remained stable despite some rather horrendous seasons and ownership issues – just think of The Yawkey Trust. One thing is that Boston will certainly not respond as Baltimore and other cities have by having fans missing in action in a key series at the end of the season. A situation that an ardent fan will find both embarrassing and deplorable.
So is their truth to what Minihane says?
When you look at Baltimore and other cities, there have certainly been a grain of truth, but for Boston, it is just pure nonsense. I could use a more appropriate term that has to do with excrement from a bull, but will avoid that. To claim baseball is irrelevant in Boston (and RSN) is an absurdity. There is no basis of fact.
A visit to Fenway Park is similar to a weekend college football rivalry as the area is energized with a festive atmosphere – even when the dregs of baseball are in town. The game itself within the park has no need from false responses as the scoreboards are devoid of the "make noise" foolishness that one sees elsewhere.
The Boston fans understand the game and are acutely aware of in-game decisions and that is and has been reflected in how manager John Farrell has been occasionally eviscerated. Simply put we have an instilled baseball genetic code that knows the basics, respects effort and has a passion that even international soccer diehards would appreciate.
Next: Red Sox David Ortiz Is Not Just A Pull Hitter
So when a term like irrelevant is tossed to the winds regarding the Red Sox it simply does not pass even the simplest of litmus tests. If there were any doubts that was erased in 2004. I am a trail runner and on one trail I run I briefly go through part of a cemetery. Graves were littered with memorials subsisting of Red Sox gear that honored those who did not bear witness to the remarkable championship of 2004. I venture some may choose to define that as "irrelevant."