Red Sox Mookie Betts Cleaning Up The Future?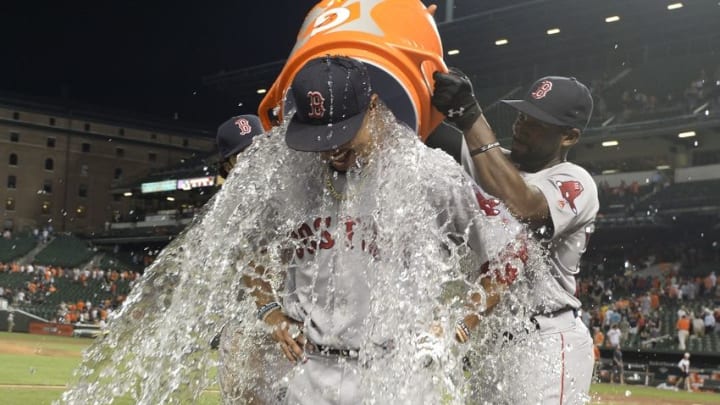 Aug 16, 2016; Baltimore, MD, USA; Boston Red Sox center fielder Jackie Bradley Jr. (left) and left fielder Andrew Benintendi (40) dunk water on right fielder Mookie Betts (50) during a post game interview after defeating Baltimore Orioles 5-3 at Oriole Park at Camden Yards. Mandatory Credit: Tommy Gilligan-USA TODAY Sports /
Boston Red Sox all-star Mookie Betts is striking fear in the hearts of opposing pitchers everywhere he goes. Playing cleanup may be his perfect spot.
Last night's game between the Red Sox and the Baltimore Orioles was a great example of how Betts has been ripping his bat through the strike zone with lightning speed and accuracy. Up until the fifth inning, Orioles starter Yovani Gallardo was having an easy night, coasting through the Red Sox lineup. With two men on base and two outs, there was a bit of hope that something offensive would happen, but Betts sure answered any prayers from Red Sox Nation with the very next pitch.
Betts put a branding stamp on the 88-mph slider and set it screeching over the left-field fence, putting the Red Sox ahead 3-0 with one swing.
The trained eye could see it coming. Betts was aggressive in the first inning, drilling the two-pitch fastball into a forceout. In the third inning, Betts swung at anything sniffing the strike zone that looked flat enough to hit, striking a 93-mph fastball into right field. That aggression was on display in that home-run swing.
It was almost an instant replay in the top of the seventh inning. The Red Sox needed something positive to happen again, after starter Eduardo Rodriguez left the game with an injury and the bullpen allowed the Orioles to tie the game. With one man on base, Betts destroyed the second pitch, a 94-mph fastball from reliever Brad Bach, sending it to left field bleachers for a 5-3 lead. The Orioles never recovered.
MLB.com reported that "Betts' blasts give him seven homers in five games at Camden Yards this season […] The latest power surge by Betts came just two days after his second three-homer game of the season. He has 28 homers, leading David Ortiz by one for the club lead."
Aug 16, 2016; Baltimore, MD, USA; Boston Red Sox right fielder Mookie Betts (50) and designated hitter David Ortiz (34) celebrate at Oriole Park at Camden Yards. Mandatory Credit: Tommy Gilligan-USA TODAY Sports /
For the season, Betts is hitting .426 with 12 homers and 18 RBIs against the Orioles. Not a bad player to have in your lineup, especially when the opposing team is one of Boston's biggest challengers for the American League East division lead.
Betts' dominance over the Orioles aside, his skills at the plate and his mental strategy may just be perfect for the cleanup role in the Red Sox lineup. He leads the team in both batting average (.379) and slugging percentage (.758) with runners in scoring position. Ortiz happens to lead the team with a .481 on-base percentage in the same situation, suggesting that Betts will keep the good times rolling with Ortiz hitting in front of him. With two outs in 41 at-bats, under the same circumstances, Betts is even more lethal and leads the team in each category, hitting .488/.553/1.000.
The issue isn't whether Betts was good enough to stay as the leadoff hitter for the Red Sox, it's whether someone else would benefit from a change. Betts hit .311 with 23 home runs and 74 RBIs, slamming the ball with a .545 slugging percentage in 108 games. Betts' RBIs suggest that someone at the bottom of the order is getting on base regularly for him to drive home. Paired with that power from the 180-pound right fielder, and still growing, the 23-year-old Betts may serve the Red Sox better hitting near the middle of the lineup and cashing in multiple runs, instead of leading off games with solo-shots.
More from Red Sox News
Both Ortiz and
Hanley Ramirez
, who's been out on the bereavement list since Monday, have been the cleanup hitters for the bulk of the regular season and have produced very well. In 91 games, Ortiz hit .314 with 25 homers and 82 RBIs. In 13 games, Han-Ram hit .250 with two home runs and eight RBIs. In just two games at cleanup, only seven at-bats, Betts has two homers and five RBIs. Ortiz has proven, this season as well as for much of his career, that he doesn't mind being either third or fourth in the lineup, because he will produce wherever he hits. Hanley has been handling the five-hole very well, hitting .280 with 13 homers and 60 RBIs; he should have no trouble moving back to that role when he comes back to the team, making way for Betts to make cleanup his home for a while.
Next: Revamping The Red Sox Bullpen To Match Rotation's Growth
At present, having Dustin Pedroia (.307 AVG), Xander Bogaerts (.312 AVG), Ortiz (.313), and Betts (.315) as the first four Boston batters seems pretty intimidating to opposing pitchers, let alone putting Ramirez (.275 AVG) back in at the five-hole. Andrew Benintendi continues to prove that he can get on base at the bottom of the lineup, allowing Pedroia's own determination to keep up where Betts left off at the leadoff spot. However, Boston should bet on Betts being the hero with runners in scoring position. Nobody wants to fall victim to some Ortiz heroics or Hanley's explosive power, paving the way for Betts to see some pitches that will lead to more RBIs on the scoreboard.