Greatest Boston Red Sox comeback win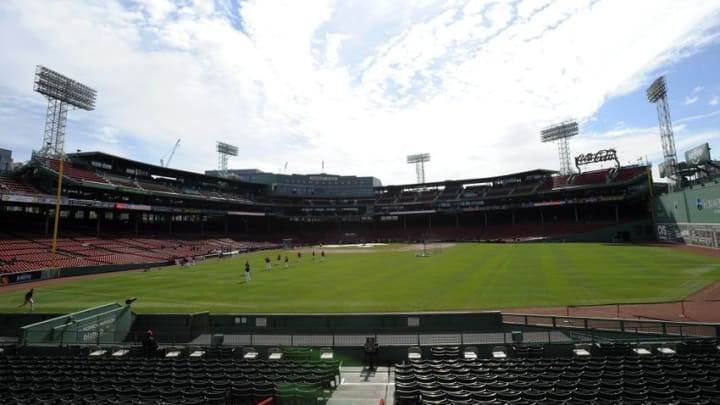 May 10, 2016; Boston, MA, USA; The Boston Red Sox warm up prior to a game against the Oakland Athletics at Fenway Park. Mandatory Credit: Bob DeChiara-USA TODAY Sports /
The Boston Red Sox had a remarkable comeback win in Texas by scoring four runs with two outs in the ninth. In 1961 they scored eight with two outs.
Boston Red Sox fans are a spoiled bunch – not New York Yankees arrogance spoiled, but close now that the demons have been fallen to The Great Exorcism of 2004 and three flags added to the rafters this century as the team continues to draw close to three million. The park is a pricey visit, but go back to the less than golden years and it was different – far different.
Let's go back in the past via my Wayback Machine to the year 1961. That season had a comeback that makes the four run and two out rally in Texas a few weeks ago just a ho-hum. How about eight runs with two outs in the ninth for a walk off win.
Ted Williams was gone and replaced by Carl Yastrzemski, who did little in his inaugural season. Chuck Schilling looked like the real deal at second with a .259 average and great defense, but in a few seasons Schilling was just a memory. Don Schwall came out of nowhere and the 25-year-old righty won the Rookie of The Year Award that was supposed to belong to Yaz.
More from BoSox Injection
Tracy Stallard was on the team and his glory moment came at the end of the year, giving up the 61st home run that Roger Maris hit. The Red Sox roster was dotted with names of once outstanding players such as Vic Wertz and Jackie Jensen, who were just pulling time, players that are a fog to my memory, such as Rip Repulski and others that are best to forget about.
The league had expanded and Boston eventually finished a dismal sixth, led by a truly awful Pinky Higgins at the helm and GM Dick O'Connell doing little to keep the good ship Red Sox afloat. Attendance was a tad over 850,000 and tickets available for any seat you wanted on game day. This was a lousy team going nowhere.
Sometimes things stand out and what did was the most amazing baseball comeback I have ever seen. The best part is it was the first game of what is now a lost treasure – a doubleheader with one – yes, boys and girls – a single admission brought you two games. Baseball actually did that at one time.
I was somehow given a driver's license – which I managed to lose three times in the next two years – and decided to take in the games. A drive into the Kenmore area and off street parking by Boston University or Northeastern. No fear of the ticket patrol in those days, as game day at Fenway was about as crowded as Coast Guard Beach in January.
The opponents for the evening were the Washington Senators, who managed to somehow win 61 games while losing 100. This was a Faux Senator team since the real one had moved to Minnesota and to placate Washington politicians and maintain antitrust exemption, an expansion franchise was granted. That was the matchup for those of us without a real life who took in the Sunday games.
More from Red Sox History
The game was a dreary exercise in combined ineptness with the crowning achievement being a five run ninth inning to put Washington up 12-5. The culprit was Billy Muffett – a journeyman right-hander – who later became a successful MLB pitching coach.
The Red Sox now started the climb out of the seven run hole with a one out single by Don Buddin. With two outs the real rally started and the big hit and from my vantage point it was a blast of epic proportions was by Jim Pagliaroni.
Pags had actually arrived in Boston as a 17-year-old in 1955 thanks to what was termed bonus baby rules. That was an interlude as Pags didn't return as a full time player until 1961. A powerful right-handed hitting catcher that hit 16 home runs that season only to see his career stall and be out of baseball by 1969.
The blast that late afternoon tied the score at 12-12 and I remember the ball going over the netting in left center as we either cheered or sat stunned. It was not over.
As you can see by the box score the rally continued along, as the Senators were quite capable of proving no lead is safe with an expansion pitching staff. A Wertz walk, a Buddin single and up came catcher Russ Nixon to pinch hit. With Pete Runnels replacing the slow-footed Wertz the game winner was a no doubt ground ball single to right field. The comeback was over and a 13-12 win was in the books. But the night game had more to offer.
The second game went thirteen innings with the Red Sox bullpen managing to give up a comfortable lead and send the game into overtime 7-6. Once again, it was Pagliaroni who put the Senators out of their misery with a shot to left field that mirrored the one that tied the first game.
Of note was Red Sox closer that season one Mike Fornieles, who saved 15 games and won this one with a six inning relief effort. Multiple innings were expected in that age of baseball.
Next: Red Sox: How to save Craig Kimbrel
By now the time was well past eight o'clock and Fenway Park was fairly deserted as folks had left early to catch the "T" or get ready to do the drone business of work the next day, but for me it was a memorable Sunday evening – June 18th and I had no school the next day.
Sources: Baseball-reference