Red Sox: Sonny Gray should't be the main target for the Sox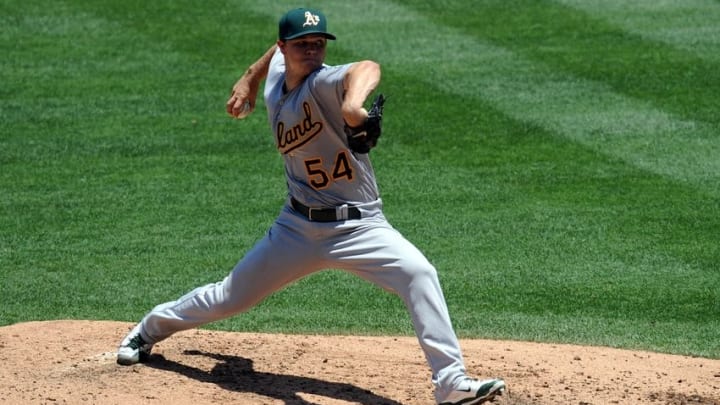 June 26, 2016; Anaheim, CA, USA; Oakland Athletics starting pitcher Sonny Gray (54) throws in the second inning against Los Angeles Angels at Angel Stadium of Anaheim. Mandatory Credit: Gary A. Vasquez-USA TODAY Sports /
With the trade deadline less than a month away, Sonny Gray has been mentioned in multiple rumors with the Boston Red Sox. But he should not be their main target.
After a putrid June where we all watched the Boston Red Sox get embarrassed by some of the worst ball clubs in baseball, people are beginning to assume that it is time for changes to be made.
Whether it is parting ways with manager John Farrell or adding new arms to the starting rotation, there needs to be changes on the roster if this team wants to play in October.
No matter how you look at it, the starting rotation is struggling and GM Dave Dombrowski needs to do something about it. Lately, fans have been loving the rumors of the Sox going after Oakland A's pitcher, Sonny Gray. Some can say that is great to hear, but not so much for me.
If the Sox were contending for the division crown last year and the rumors of acquiring Gray were happening, I would be stoked. But comparing Gray's numbers from last year to this season, he was a completely different pitcher. In 2015, Gray threw over 200 innings and had his best ERA so far as a full time starter. Now in 2016, he can't seem to find his ace-like form.
More from Red Sox News
So far this season, Gray is 3-7 with a 5.42 ERA, nothing to go crazy about if he ends up on the trade block during the deadline. In his last start against the Pittsburgh Pirates, Gray let up a pathetic 7 earned runs through 6 innings. You can say that every pitcher has bad days, but this was the third start this season where Gray has let up 7 earned runs.
Gray is having the worst season so far in his young career. So do you really want Boston to give Oakland a handful of prospects and some Big Leaguers for a guy who is pitching just as bad as any one of the starting pitchers they have now? The answer should be no.
I understand that you need to give away some players you love for players you need, but you do not need Sonny Gray right now with how he is performing.
The problem that some Boston fans have is that they get way too excited when the Sox go after the big and "sexy" names around baseball even if they aren't producing that season.
More from BoSox Injection
Remember Rich Hill? He was unbelievable for the Sox during the second half of the season and then decided to join Sonny Gray during the offseason and sign with the Oakland Athletics. Hill's dominance carried over this season where he currently has an 8-3 record with a 2.31 ERA. Even though he missed all of June due to injury, it wouldn't be a bad idea for the Sox to go after Hill since he has consistently made quality starts throughout the first two months of the season.   Also, I can guarantee that the A's would want much less in return for Hill than for Gray. This is because Gray is much younger and still has plenty of potential. But with the Red Sox being in a "win now" mentality, Hill is the smarter move if they want to contend this year.
Now a majority of Red Sox Nation would probably be so disappointed in Dombrowski and the rest of the front office if they got Hill instead of Gray. But I bet those people are probably the same group that thought knuckleballer Steven Wright was going to do nothing special this year because he doesn't have the 98 MPH stuff that fans love to watch.
Sonny Gray is the type of pitcher that can blow hitters away which clearly isn't working out for him this season. Rich Hill on the other hand touches 90 occasionally on his fastball and gets his hitters out with his loopy 75 MPH curveball. What I am getting at is that you can have a successful ball club with a rotation of guys who pitches for contact and not for strikeouts.
Next: Red Sox promote Bannister
With what I said before, the Red Sox starting rotation needs help. And Sonny Gray is not the answer this season. Like everyone else, I hope the Sox make the right move in getting a starter who can produce in the second half of the season. It doesn't have to be a big name stud, just someone who can do their job every 5th day.