A Boston Red Sox fan visits Target Field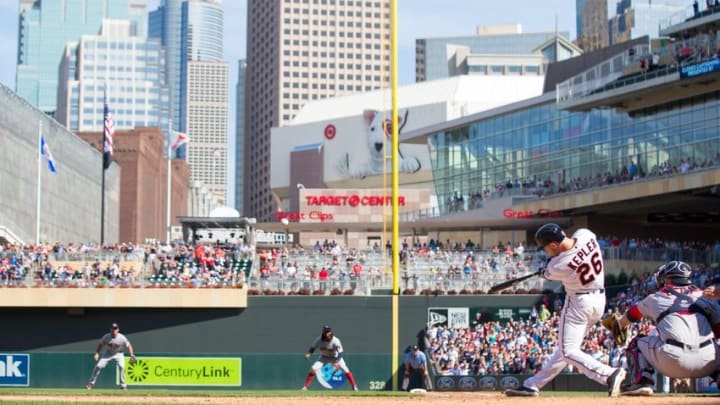 Jun 12, 2016; Minneapolis, MN, USA; Minnesota Twins outfielder Max Kepler (26) hits a three run walk off home run in the eleventh inning against the Boston Red Sox at Target Field. It was his first major league home run. The Twins won 7-4 in 10 innings. Mandatory Credit: Brad Rempel-USA TODAY Sports /
As a Boston Red Sox fan I enjoy baseball road trips and this was my first visit to the magnificent Target Field in Minneapolis. A great venue.
The recent Boston Red Sox trip to Minneapolis completed a personal trifecta for me as I joined other Red Sox fans – lots of Red Sox fans – for three games at the magnificent Target Field. In my wanderings over the years I have also been to Metropolitan Stadium and the infamous Baggy Dome, the only park that can exceed Tropicana or whatever that monstrosity in Oakland is now called.
Target is simply a beautiful park planted firmly in downtown with exceptional access via light rail. The amenities – in my case that means food – is excellent with the familiar ball park expected prices. I would certainly recommend the nachos at Kent Hrbek's restaurant inside the park.
The backdrop is the familiar one to downtown parks and that is the skyline of the city. The scoreboard is sensory overload with all the minutia that would give a sabermetrics geek heart palpitations. The sight lines are excellent throughout the park and all or most plays appear on replay.
More from BoSox Injection
Since my four year-old granddaughter was along that meant a trip to the Mall of America. My own personal view is this is the representation of the end of civilization and that was further exemplified by a visit to the American Girl Doll store, where for $20 you could have a hairstylist do your doll's hair. I pay $12 for a haircut – $15 with tip – so this certainly gave me pause for how to adjust my will.
The mall is near the airport and we stayed in that area that is littered with every conceivable hotel brand on the seven continents. Each providing zombie service to the mall that soon became more painful than any Clay Buchholz or Joe Kelly start.
I also was trapped in Nickelodeon Universe, an amusement park located in the center of that bloated mall. But with a four year-old one must sacrifice and that often meant being a companion on a ride. Hint: Never feast on a Cinnabon prior to going on any rides.
Twins fans are a stoic group living in an area that is capable of perpetual winter and certainly looked forward to a Red Sox team that was reminiscent of the old bludgeoning Twins teams of the 1960's and 70's. A grudging respect and envy for a franchise with a wealth of talent and money. The Twins fans I spoke with consider their system as barren as the surface of the moon with little help in view.
Byron Buxton, a former all-world prospect, has not done much, but as I reminded, Jackie Bradley was the same. The pitching staff offers no real upgrades if you were Boston and looking for an arm. Ervin Santana is too much like Buchholz and the only bullpen performer of interest would be lefty Fernando Abad, who has had a spotty MLB career.
I was impressed by shortstop Eduardo Escobar, but Boston already has a player of some notoriety at that position. Robbie Grossman, a switch hitting outfielder, has a certain dirt dog/pest quality in his play and has walked more than he has struck out. Byung-ho Park is a Korean clone of Dave Kingman who looked mesmerized by the knuckleball.
On the Red Sox side, it was all Xander Bogaerts, at least for the first two games, as he just torched the Twins staff. Nothing baffled XB, who seemed to hit everything on the button. Steven Wright was something special, with a fastball that touched on 88 MPH in the seventh inning. Wright had a curve, FB and change all in form and that made hitting a guessing game and most of the Twins guesses were incorrect.
Eduardo Rodriguez had nothing, and I do mean nothing. His fastball lacked movement and E-Rod exhibited zero confidence in his secondary offerings. Two balls that were quasi home runs barely missed by going foul and it was only a matter of time. E-Rod also appears a bit on the heavy side and with heat and humidity on Saturday that didn't help.
Sandy Leon should be tested ASAP. Four hits? This is a career .187 hitter who had a career day. A tip of the cap to Leon. Another tip to Christian Vazquez, who handled the Wright offerings almost flawlessly – keep him there.
I can't fault Matt Barnes for the Sunday loss – well let me rephrase that – you walk a lead-off batter you do deserve what you get. The eventual situation called for a strikeout and Barnes went heat and the ball went out. Game over. On Friday Barnes went 1.2 with no runs so the well ran dry on Sunday.
Next: Travis Shaw needs some life
For a Red Sox road trip I would certainly urge Target Field that is now up there with Coors, Minute Maid and AT&T as great ballparks and nice cities for a visit.