Red Sox: A Guide to the Year's Remaining Promotional Items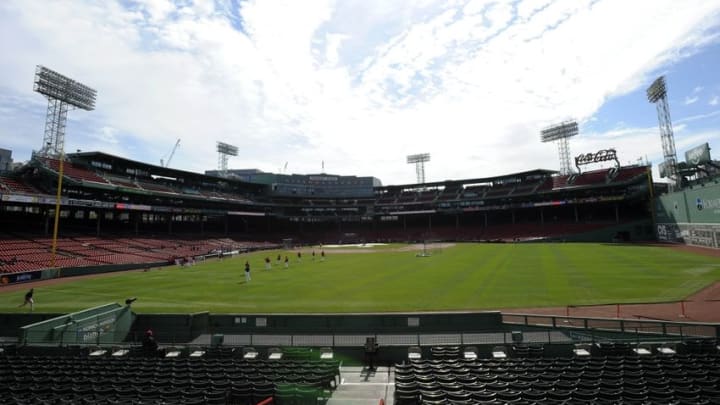 May 10, 2016; Boston, MA, USA; The Boston Red Sox warm up prior to a game against the Oakland Athletics at Fenway Park. Mandatory Credit: Bob DeChiara-USA TODAY Sports /
Promotional items are always a fun addition to a day spent at the ballpark. Here is a guide to this season's Red Sox promotional items.
If you're trying to select a few dates to head out to Fenway Park and see a Red Sox game, one of the best ways to capitalize on the experience, and maximize the cost of your ticket, is going to a game where there are special events or giveaways.
With the retirement of David Ortiz, the signing of David Price, and the recent enshrinement of two Red Sox legends, this year's promotional schedule is a good one.
Before we get into the upcoming promotional items, lets take a look back to those offered earlier this year:
On April 12, the Red Sox celebrated David Ortiz and remembered his 500th career home run that he hit at the end of last season. Fans got the chance to honor Ortiz by wearing gold and diamond 500 necklaces, featuring Big Papi in his signature pose, pointing towards the sky. It was some serious bling.
A week later, on April 19, fans who went to the game received a Mookie Betts bobblehead. With Betts diving to make a play, as he so often does. The bobblehead was a big hit and was named one of the year's ten best baseball bobbleheads by the Bobblehead Hall of Fame.
In May, the Red Sox honored the newest member of Red Sox Nation, David Price, with a bobblehead of his own. The honor may have had a positive impact on Price, who after losing a game to the Yankees, bounced back and got his fifth win of the season against the Houston Astros on May 12.
Three days later, the Red Sox celebrated Wally's birthday (how could you not?) by giving fans in attendance a Wally gnome.
The Red Sox then rounded out the month by, once again, honoring David Ortiz and giving the first 15,000 fans in attendance a print celebrating his career. The Red Sox will be honoring Ortiz with a promotional item in each of the subsequent months.
Here is a monthly breakdown of all the promotional items being offered by the Red Sox for the remainder of the season: