Red Sox David Ortiz: The Pride Of Boston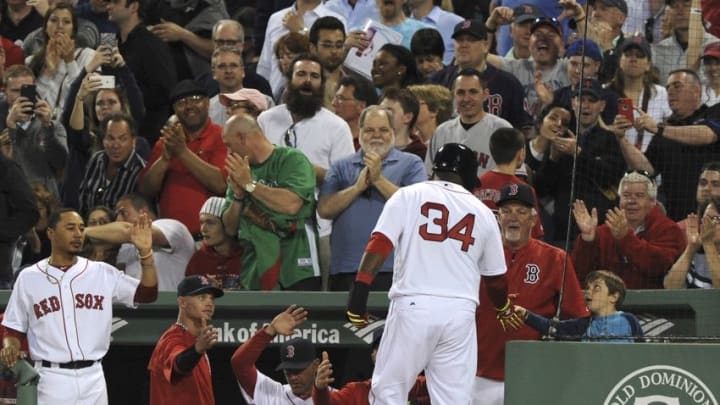 May 12, 2016; Boston, MA, USA; Boston Red Sox designated hitter David Ortiz (34) high fives a fan after scoring a run during the third inning against the Houston Astros at Fenway Park. Mandatory Credit: Bob DeChiara-USA TODAY Sports /
Yesterday, Boston Red Sox designated hitter David Ortiz showed, once again, why he is the face of the franchise. This leader is the very pride of Boston.
Give as many statistical records as you want, but you will only scratch the mere surface of the true man behind them. Bring up the fact that he just passed Ernie Banks and Eddie Mathews in the all-time MLB home run list, cranking his 513th over the fence in Fenway Park to help lead his team back from a 5-1 deficit. Discuss the fact that Ortiz also hit his 600th double, good for 15th on the all-time list, to drive home the winning run in that same game. It was also the first time Ortiz hit a double, a triple, and a home run in the same game, in a season that is supposed to be his last.
No rust on those old bones!
The fact is, this 40-year-old lefty bat cannot be defined just by his numbers for the last 20 seasons. How many times can someone bring up a future Hall-of-Famer's statistical accomplishments before the point has been made? He's a future Hall-of-Famer, it's been already been played out for the masses for years, so this latest set of stats is only thrown on to the large mountain that came before them.
While you're at it, why not bring up all of the times that Ortiz has been in the public eye? From verbal arguments on the field to being fired up in the dugout to motivate his teammates, Ortiz has worn his passion for the game on his sleeve, rather than being an enigma in serious situations. Sometimes anger can be a negative, but much of Red Sox Nation and his teammates have taken it to their own hearts, inspiring them to perform on their own paths. Whether on Instagram, Twitter, Facebook, or other social media platforms, people talk about his passion more than anything else, and that includes Ortiz, who allows everyone into his world at a touch of a button.
May 8, 2016; Bronx, NY, USA; Boston Red Sox designated hitter David Ortiz (34) at Yankee Stadium. Mandatory Credit: Andy Marlin-USA TODAY Sports /
It's pretty incredible, considering how many celebrities stay guarded from the public eye.
However, the one thing in my mind that stands out the most actually happened yesterday afternoon during Ortiz's at-bat in the 11th inning. I was sitting on a couch during my friend's birthday party and his elderly mother sat next to me. Instead of discussing small talk, as I had only met her that day, she opened the conversation with how much Ortiz has meant to the Red Sox, the fans, and the city of Boston: "When he retires, I can't see him just leaving. I wish that he'd play another year, but even when he's done he's going to be a part of the team in some way. He's meant so much to the team and the city itself… oh my!" And, with a sudden clap, that woman from Montreal, who said later that she used to have Carl Yastrzemski posters all over her room, cheered with joy not only for her grown boy's birthday but for Ortiz drilling that double to win the game.
Next: David Ortiz Leads Boston Red Sox 6-5 Extra Innings Win
That is what Ortiz has given Boston: pride. Bostonians see his passion, skill, and heart in everything that he does. That workman-like attitude is synonymous with the city and its people. When Ortiz famously, or infamously, said that Boston was not just his city but their city, he not only meant it but he also felt it. Bostonians and every member of Red Sox Nation watching felt it too. He was originally a native of the Dominican Republic, but his love for the city that adopted him is strong. Boston Strong. And, that love and pride is reciprocated.
Lead on, Ortiz! The whole city is behind you, literally.