Red Sox Host Astros; Can They Keep Good Times Going?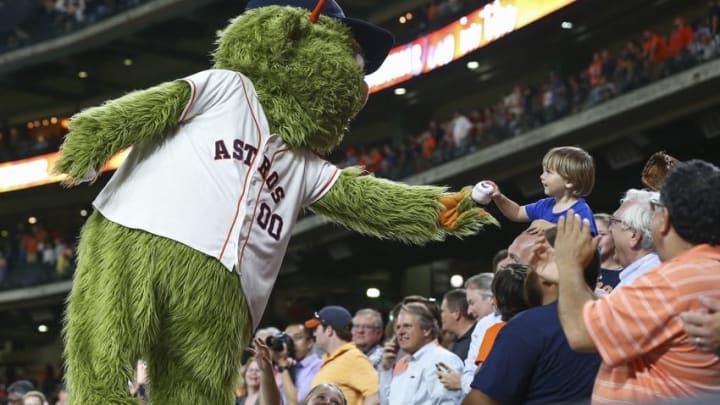 May 10, 2016; Houston, TX, USA; Houston Astros mascot "Orbit" gives a ball to a fan during the eighth inning of a game against the Cleveland Indians at Minute Maid Park. Mandatory Credit: Troy Taormina-USA TODAY Sports /
The Boston Red Sox open their four-game home series with the Houston Astros tonight. Can Boston keep the offensive pressure going or will they lose steam?
The Red Sox (21-13) will want to continue swinging the bats well, as they will greet the Astros (14-21) in Fenway Park, tonight.
While Boston has been red hot on offense, posting a 7-3 record in their last 10 games, some of their starting pitchers continue to give up runs easily. Fortunately for Red Sox Nation, the bats have hit a team average of .300 and drove in 47 RBIs, 49 runs in total, over the last seven games, which leads all major league teams.
Houston has won more than it has lost in the same span, posting a 6-4 record, but they find themselves 7.5 games back of the lead in the American League West division. Their 4-11 away record also doesn't pose much promise for their own fans, as they are about to enter the cathedral of Boston.
Pitching Matchups
Thursday, May 12 @ 7:10 PM: Dallas Keuchel (2-4, 4.70 ERA) vs David Price (4-1, 6.75 ERA)
Friday, May 13 @ 7:10 PM: Lance McCullers (NA) vs Steven Wright (3-3, 1.52 ERA)
Saturday, May 14 @ 1:05 PM: Collin McHugh (4-3, 5.50 ERA) vs Clay Buchholz (2-3, 5.90 ERA)
Sunday, May 15 @ 1:35 PM: Chris Devenski (0-2, 1.72 ERA) vs  Sean O'Sullivan (1-0, 6.43 ERA)
Series Notes
Thursday's pitching matchup should have been an ace showdown, as Keuchel just edged out Price last season for the Cy Young Award. While both men are still considered the aces of their teams, both have struggled out of the gates. Opposing lineups are hitting .278 against Price while hitting .282 against Keuchel. The only difference between them is that Keuchel isn't getting as much run support as Price has had.
To continue in that vein, run support will be the most important factor in this series. At present, teams can't seem to keep the Red Sox off of the scoreboard, while the Astros are not producing nearly as much at the plate. With Devenski averaging less than two runs a game, one would think that he would have a winning record, instead of having only two losses in three starts.
McCullers will make his season debut for the Astros on Friday. The 22-year-old prospect has been in the minors since 2012, and is being called upon to help the Astros find some momentum. McCullers was quickly moved up from Double-A to the majors last season, posting a 6-7 record and a 3.22 ERA in 22 starts. However, after having shoulder soreness, he was sent back down to make two rehab starts before returning for this year. Between the two rehab starts, he has only pitched eight innings, striking out 11 and walking only two batters, while allowing only one run.
Key Hitters
Astros: Colby Rasmus
2016 Season (34 Games): .224/.340/.448, 7 HR, 28 RBI
Career vs Red Sox (51 Games): .228/.282/.431, 8 HR, 32 RBI
Everyone knows that the Astros' best hitter is Jose Altuve, but wins and losses go through Rasmus and how he does at the plate. He leads his team in RBIs, driving in his teammates in crucial times. When Rasmus is able to drive in Altuve, as he's often in scoring position, the Astros have something cooking; when Rasmus is cold, so is the dinner served up to Houston fans.
Next: Boston Red Sox Sweep Oakland Athletics With 13-3 Win
Red Sox: Jackie Bradley Jr.
2016 Season (33 Games): .322/.367/.610, 6 HR, 28 RBI
Career vs Astros (10 Games): .308/.349/.359, 5 RBI
He's only one RBI shy of the franchise player himself, David Ortiz. He's cashing in runs at important times in ballgames. And, he's doing it all from the nine-spot in the lineup. Granted that it's been helping that Travis Shaw, Brock Holt, and Christian Vazquez are getting on base in front of him, and doing it often, but Bradley is looking anything but junior at the plate when they do. Unless you mean like another famous 'Junior', a la Ken Griffey Jr. who also played center field and is going to the Hall of Fame in Cooperstown this summer. It's a bit early, however, to compare the two, especially when it wasn't so long ago that Jackie could barely hit the broad side of a barn with a pitch. It will be interesting to see if he can sustain this recent success.