Boston Red Sox 16 game wish list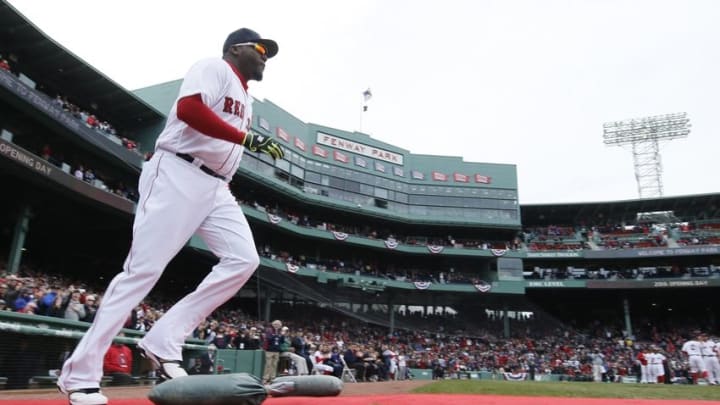 Apr 11, 2016; Boston, MA, USA; Boston Red Sox designated hitter David Ortiz (34) takes the field before the Red Sox home opener against the Baltimore Orioles at Fenway Park. Mandatory Credit: David Butler II-USA TODAY Sports /
The Boston Red Sox May schedule shows 13 of the next 16 games at home. A nice 10-6 record could put them on the right track for the season.
The Boston Red Sox schedule for May is one large blotch of red since 13 of the next 16 games are home games. The sometimes merry month of May starts at home with three against the Athletics followed by four against the Astro's. A quick three-game trip to Kansas City to face the Royals and the jaunt back home to face the Indians and Rockies. Two days off fall on the 19th and 23rd.
The Red Sox need targets and the ideal target for this attractive May schedule would be to come out of the string with a 10-6 record. You don't win every game in baseball unless you are the 1869 Cincinnati Redlegs who went 57-0 for Harry Wright.
More from BoSox Injection
There are attainable targets that could greatly enhance the 10-6 by bumping it up and conversely targets that could impact in the other direction. Here are a few. My own wish list.
David Price needs to make three acceptable starts and after what has happened at this point just about anything could classify as acceptable so narrow it down. Forget quality starts as that is the domain of lower rotation pitchers and Price needs to return to ace status. Three six innings or more with two runs or less.
Mookie Betts is capable of getting hot and by hot that is blazing hot and a Betts streak is on the horizon. Some balls into the gap, a few over "The Monster" and some nice RBI totals. Maybe a few walks that can present steal opportunities and enhance the Betts run totals?
Is the old Clay Buchholz back and by old I go back to 12-1 or 17-7 type old – a dominating pitcher and not an inconsistent drag on the bullpen.
Steven Wright is the real deal. I get edgy with knuckleball pitchers and Wright has savior attached so far. Will it continue? May will tell.
Eduardo Rodriguez has not exactly dazzled in rehab starts with the latest being a three run and 5.2 inning effort for the PawSox. E-Rod may need some time to get it all together, but one nice start should make everyone avoid tossing and turning.
The Papi extra base tour appears to not be slowing down. David Ortiz is hitting and hitting hard. Papi in his slot brings everyone in the order – especially those around him – up another notch.
Carson Smith was one of the best in the league in 2015 and apparently is nearing 100%. That must continue through the 16 games in 19 days since the bullpen will be called upon.
Hanley Ramirez has been that extra special gift you were not expecting for Christmas and HanRam is also starting to power up a bit. I'm convinced on his defense. Ramirez is no first base buffoon, but actually a decent glove. The Ramirez we have seen now is a key component in the order. HR needs to keep the foot on the pedal.
I'm waiting for the Travis Shaw express to derail and so far it has not. Is Shaw the real thing or just an average Joe who the pitchers have yet to catch up with? I'm leaning towards real deal.
Xander Bogaerts continues to decimate the right side with line drives and some good power shots into right center. The howl is home runs – forget the long ball and let him keep on doing what he does best – another Silver Slugger?
Keep Christian Vazquez healthy. The knack for a good at-bat and important hit just adds to his defense value. Pitchers love the guy and runners get poached with him. Just the threat of his arm keeps baserunners glued to their safety net.
No more Dustin Pedroia hand injuries. The various pronouncements from observers is that Pedroia is finally a person with all ten digits on his hands functioning.
I don't care if Jackie Bradley hits .240. His glove and extra-base prowess are worth it. This is a very dangerous number nine hitter.
The bullpen trio of Junichi Tazawa, Koji Uehara, and Craig Kimbrel perform just as envisioned in the game plan that was drawn up. Having all three in a game is usually a good thing since it generally means a lead for Boston.
John Farrell is not being fired this week. Maybe next week? Every move is scrutinized to the nth degree. Of late the complaints on Farrell have been minimal and winning does that.
Next: Red Sox Have The Wright Time
If all the meanderings I listed come reasonably close to fruition, then 10-6 would be a slam dunk. A very nice .625. A crash and burn by a few players, a streak of injuries and an opponent on a roll could certainly damper the end results, but 10-6 means, to me, divisional driver's seat.