Porcello, Bradley key 1-0 Boston Red Sox win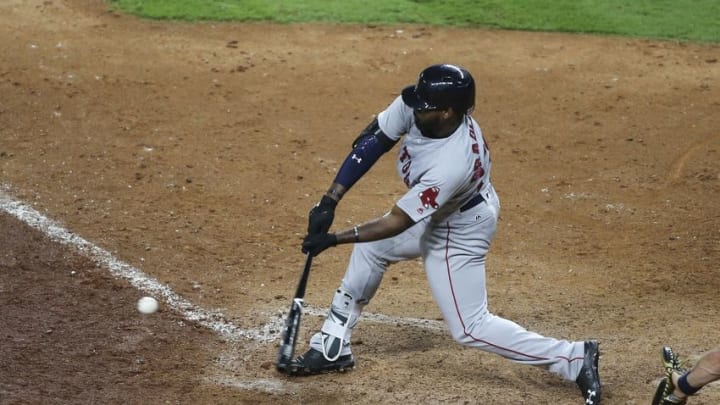 Apr 24, 2016; Houston, TX, USA; Boston Red Sox center fielder Jackie Bradley Jr. (25) drives in a run with a single during the twelfth inning against the Houston Astros at Minute Maid Park. Mandatory Credit: Troy Taormina-USA TODAY Sports /
The Boston Red Sox had dominating pitching from Rick Porcello and their bullpen backed by a solo home run by Jackie Bradley to key a 1-0 win in Atlanta.
Rick Porcello and a Jackie Bradley home run combined with some stellar bullpen work by Koji Uehara and Craig Kimbrel to defeat the Braves in Atlanta 1-0.
Last season the Braves Julio Teheran was welcomed to Fenway Park with a 13 hit Red Sox explosion on their way to a 9-4 victory over the Braves in which Teheran took the loss. Not tonight as Teheran matched Porcello pitch for pitch until Bradley went deep in the seventh.
Haley's Comet is a rare solar event occurring every 75 years, but at Turner Field, an equally rare event happens – Porcello did not allow a home run. Of course, entering the game Mookie Betts (4) had more home runs than the Braves (3), but Porcello and RSN will gleefully accept the Atlanta power drought.
More from BoSox Injection
The Red Sox first inning featured an error by old friend A.J. Pierzynski to give a second life to Xander Bogaerts whose attempt at a triple to center was hauled in by Mallex Smith to end the inning. An excellent running grab by Smith.
In the last of the frame the Sox flashed some leather of their own with a terrific play by third baseman Josh Rutledge to take a hit away from Daniel Castro, but more was on the way.
With two outs Adonis Garcia singled and up stepped Pierzynski looking for career hit number 2,000. That attempt was snuffed out by a Betts running grab in right center that may have prevented a run.
The Red Sox did have a two-out chance in the top of the third. Teheran gave up his first hit of the game on a double to right that a more energetic Nick Markakis may have been able to track down. The hot-hitting Dustin Pedroia then tapped a routine grounder to second and that ended the opportunity. The Braves responded in the last of the third by quietly going 1-2-3 to have a 0-0 game through three innings.
The Red Sox came up short on another opportunity in the top of the fourth. With one out Travis Shaw drew a walk on a 3-2 pitch. Rutledge followed with a single to left and Brock Holt then ran the count to 3-2 and Teheran got him for his sixth K with the runners moving. Unfortunately, Shaw came up about six feet short on the steal attempt. Inning done.
The RISP frustration continued in the sixth for Boston. With one out Bogaerts looped a single to right and then stole second to set up Shaw. Shaw hit a lazy fly ball to left for the second out and Rutledge then went into the game book as Teheran's seventh strikeout. Teheran and Porcello were both dealing and it was still 0-0 through six innings.
Teheran has a history of giving up the long ball and in 2015, he surrendered 27. This season the total is four until Bradley turned it to five with one out in the seventh and a rocket into the right field stands. The Red Sox then proceeded to load up the bases. Christian Vazquez doubled to left and Porcello dumped down a bunt single that was quite playable by Teheran and Pierzynski. After Betts struck out the count went 3-2 on Pedroia before Teheran went wide for ball four. Bogaerts then went 10 pitches before hitting a hard line out to center to finish off the threat, but Boston was up 1-0.
The bottom of the frame the Braves came roaring back with one out Jeff Francoeur shot a double to right center. Freddie Freeman then walked and out hustled manager John Farrell to go to his bullpen and Robbie Ross. Pinch-hitter Drew Stubbs grounded into a force out setting it up for pinch-hitting Erick Aybar. On a 3-2 pitch, Ross froze Aybar and that kept it at 1-0.
The game was now in the pitching hands of Uehara and Kimbrel. Koji issued a walk in his frame and that was harmless as the Braves followed the pass with a strikeout and a popup.
In came Kimbrel who is the Braves all-times saves leader and there were no late-game heroics against Kimbrel tonight as he finished off the game with a K of Freeman.
Tuesday night the Bosox will have left-hander David Price (2-0, 7.06) against Braves right-hander Matt Wisler (0-1, 3.10)
Next: Boston Red Sox vs Atlanta series preview
Game Notes
* Both Hanley Ramirez and David Ortiz did not start.
* The Braves were originally called the Boston Red Stockings.
* Porcello's HR/9 of 1.3 in 2015 was a career high.
* April has been disappointing for Porcello with a career 5.85 ERA.
* The Braves were first organized in 1871.
* The Red Sox have MLB's best Interleague record since 2003 – .633.
* Kimbrel's ERA in April of last season was 5.19.
* The Braves spent 76 years in Boston and 13 in Milwaukee.
* The Red Sox rank second in the AL in fielding percentage – .988.
* The Red Sox once purchased John Henry (no owner relationship) from the Braves.
* Eddie Mathews played for the Braves in Boston, Milwaukee, and Atlanta.
* Matthews – a rookie – hit three home runs in the last game played at Braves Field (9/27/52).
* Babe Ruth started his career with the Red Sox and finished it with the Braves.
* The Braves are 30-32 against the Red Sox entering Monday's game.
The Red Sox needed a starter to step up and that was Porcello who tossed 6.1 innings allowing no runs, four hits, a pair of walks and six strikeouts. And none, nada, zilch home runs. This is obviously the Porcello that the Red Sox thought they had and just now maybe they do. Porcello tossed 98 pitches and if the offense had bundled up some runs he probably would have gone eight. For Porcello it was his fourth win of the season.
Uehara tossed an inning allowing a walk and posting a strikeout. Kimbrel did his inning with two strikeouts. Ross gets a game ball for stranding runners and preserving the lead.
The Red Sox streak of scoring in the first inning for five straight games ended. RISP 1-7 and 8 LOB. The Red Sox had their chances but came up short. The Red Sox never led off an inning by getting a runner on. The JBJ shot was a rocket and just maybe Bradley will be on a tear?