Red Sox Legend Bobby Doerr Turns 98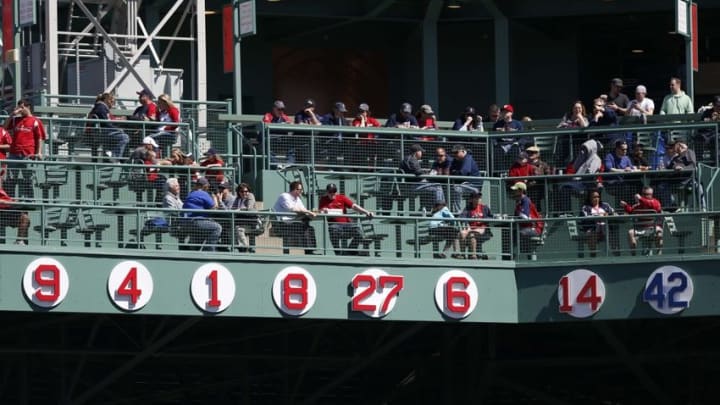 Apr 15, 2015; Boston, MA, USA; The number 42 hangs on the right field wall along with other numbers retired by the Boston Red Sox in honor of Jackie Robinson during the second inning against the Washington Nationals at Fenway Park. Mandatory Credit: Greg M. Cooper-USA TODAY Sports /
Red Sox Legend and Hall of Famer Bobby Doerr celebrated his 98th birthday today.
Happy birthday to legendary Red Sox second baseman Bobby Doerr, who turned ninety-eight years old today.
A nine-time All-Star, Doerr entered MLB in 1937 and spent the entirety of his fourteen year career with the Red Sox. Along with the likes of Dom DiMaggio, Jimmie Foxx, Joe Cronin, and Ted Williams, Doerr contributed to a Red Sox team that dominated the league as an offensive powerhouse.
During the 1944 MLB season, Doerr had the second highest batting average in the league at .325, and recored 152 hits, 81 RBIs, 15 home runs, and led the league with a .528 slugging percentage. He was named the American League Player of the Year by The Sporting News. 
At the prime of his career, Doerr was drafted into the army, and was thus unable to play in the 1945 season.  He shipped off to Portland, Oregon for training, and was preparing to be deployed to Japan with his outfit when two atomic bombs were dropped on Japan, ending the war.
Doerr also has the distinction of being one of a handful of players to hit for the cycle twice during his career, once in 1944 and again in 1947. He was not only a force behind the plate, but at second base as well. According to the Society For American Baseball Research, Doerr "led the league 16 times in one defensive category or another and wound up his career with a lifetime .980 mark – at the time of his retirement, he was the all-time major league leader."
He retired in 1951 with a career batting average of .288, 2,042 hits, 1247 RBIs, and 223 home runs. Thirty-five years later, he was inducted into the Baseball Hall of Fame. And in 1988, his uniform number, #1, was retired by the Red Sox.
After his retirement, Doerr continued his association with the Red Sox. From 1957-1966, he served as a scout for the team, and, in 1967, he served as the team's first base coach, under newly appointed manager Dick Williams, through the 1969 season. He later served as a hitting coach with the Toronto Blue Jays from 1977 to 1981.
Next: Will the real Buchholz please stand up?
Since then, he has remained an active member of Red Sox Nation and an All-Time Fan Favorite.