Red Sox Hold All The Cards On Ortiz Extension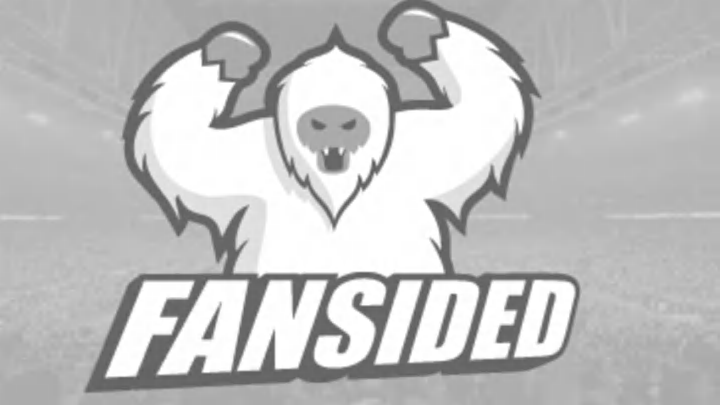 Given that there's a long list of players who are making more money who aren't producing at his caliber, one can understand David Ortiz's case when he expresses a desire to make more than he actually does. It's even more understandable when you notice that he was quite underpaid in his best seasons. That being said, Ortiz isn't going to get paid more money elsewhere. The Red Sox hold all the cards when it comes to Ortiz and both parties know this.
Oct 30, 2013; Boston, MA, USA; Boston Red Sox designated hitter David Ortiz is interviewed after game six of the MLB baseball World Series against the St. Louis Cardinals at Fenway Park. Red Sox won 6-1. Mandatory Credit: Greg M. Cooper-USA TODAY Sports
It's important to first address why Ortiz has been underpaid in his tenure. He came to Boston after being non-tendered by the Minnesota Twins. At that time, Ortiz had so much untapped potential, but his career line was rather underwhelming. That potential would eventually get tapped over the next four seasons as he established himself as one of the best bargains in the game. His first big money extension covered the 2007-2011 ($64.75 million) seasons and was at a time when annual salaries over $15 million, let alone $20 million, weren't commonplace.
Ortiz made a total of $28.575 million the past two seasons and is due to make a career high $15 million in 2014. He's been really outspoken with his desire for a bigger salary. Chances are he'll make more in 2015 than he will in 2014, but it likely won't exceed what the likes of Carl Crawford and Mark Teixeira will make. Ortiz will ultimately accept what the Sox offer and there's one reason why: HE REALLY DOESN'T HAVE MUCH LEVERAGE.
The number of other suitors outside of Boston are non-existent. At age 38, being primarily a DH for over a decade, and his recent Achilles problem, the ship has probably sailed for him to have any appeal to the 15 NL clubs as a first baseman. In the AL most teams either A. Already have a DH, B. Rotate players out in the DH role, and/or C. Won't pay a DH more than the Red Sox will.
When you look at the other financial Giants in the AL (Rangers, Angels, Yankees, Tigers), none of them are real potential suitors. The Rangers have Prince Fielder for the long-term and he'll continue to regress defensively. The Angels have both Albert Pujols and Josh Hamilton signed long-term AND they're hoping to lock up Mike Trout. The Tigers are hoping to lock up Max Scherzer and Miguel Cabrera with the latter likely being a future full-time DH. The Yankees are always mentioned as a possibility, but they're even less likely. Given that they aren't shying away from paying players big money deals in the twilight of their careers, they absolutely can't have a full-time DH when they need that slot to give multiple guys a day off from the field.
Bottom line: If any of these teams were to actually offer Ortiz a salary of his liking, all the Sox have to do is match it. Chances are none of them will go more than one or two years or an average salary that exceeds $20 million.
I mentioned in my previous article that I'm confident Ortiz will agree to extend his stay in Boston beyond 2014. But it'll probably be for one more season at a salary of $20 million. Ortiz can look for a better deal elsewhere, but he'll be unlikely to find one. He's a great player and has been (and will continue to be) an excellent bargain. Unfortunately for him, he's established himself as the greatest DH of all-time at a time when the full-time DH is becoming a thing of the past. It's because of this that Ortiz has no real leverage…and the Red Sox hold all the cards.