Boston Red Sox: All-time lineup and prospects who could dethrone them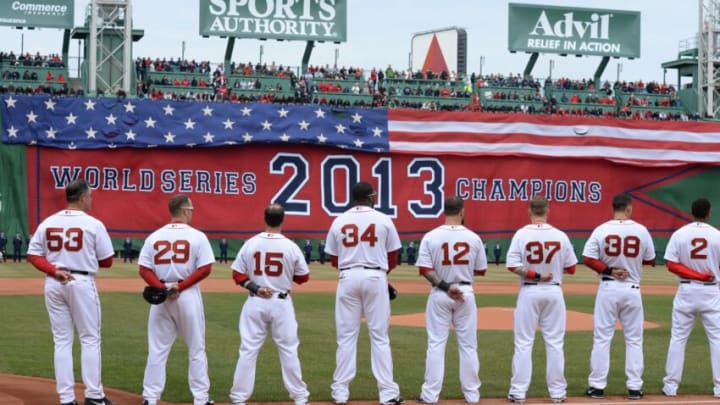 BOSTON, MA - APRIL 4: Members of the Boston Red Sox stand for the National Anthem during a ceremony honoring the 2013 World Series Champion Boston Red Sox before the start of a game against the Milwaukee Brewers at Fenway Park on April 4, 3014 in Boston, Masschusetts. (Photo by Michael Ivins/Boston Red Sox/Getty Images) /
BOSTON, MA – APRIL 19: An American flag is dropped from the Green Monster prior to the start of the game between the Chicago White Sox and Boston Red Sox in honor of Patriots Day at Fenway Park on April 19, 2021 in Boston, Massachusetts. (Photo by Kathryn Riley/Getty Images) /
Red Sox outfield protégé – Tyler McDonough
Tyler McDonough was selected in the third-round of the 2021 MLB Draft by Boston. He is a utility-man at the moment. However, the North Carolina State product did spend most of his time in centerfield.
McDonough appeared in 31 games (121 at-bats) in the minors last season between Rookie Ball and Low-A. That's all he needed to make an impression though. The switch-hitter slashed .298/.388/.496 with seven doubles, four triples, and three home runs. He drove in 15 runs, scored 25 more, and stole three bases.
McDonough is extremely interesting because he grades out at above-average at everything. Maybe he won't be "elite" in any specific category, but he could be a true five-tool player. The 22-year-old (will turn 23 on April 2nd) could do that with some extra speed. McDonough has potential to hit .280-plus with 20-plus home runs. He could also steal over 25 bases in a season while playing great defense.
It's the type of talent that could lead to phenomenal production. Maybe he won't win an MVP or be the superstar of the team, but he does it all. And that could lead to McDonough being a staple of the Boston lineup for a long, long time.
So even if he isn't putting up insane numbers each year, you could expect above-average production every single year. And if he's around long enough, that could lead to him becoming a legend in Boston.