Boston Red Sox top-30 prospect rankings after the 2021 season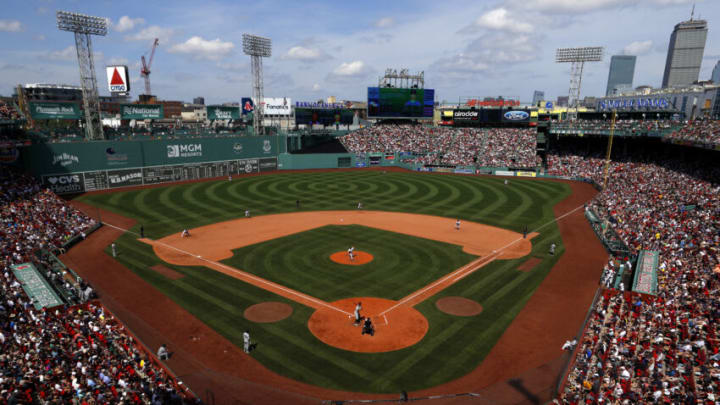 BOSTON, MASSACHUSETTS - JUNE 27: A general view of the game between the Boston Red Sox and the New York Yankees at Fenway Park on June 27, 2021 in Boston, Massachusetts. (Photo by Maddie Meyer/Getty Images) /
BOSTON, MASSACHUSETTS – OCTOBER 20: A general view of the Boston Red Sox playing against the Houston Astros in Game Five of the American League Championship Series at Fenway Park on October 20, 2021 in Boston, Massachusetts. (Photo by Omar Rawlings/Getty Images) /
No. 15: Red Sox shortstop prospect Matthew Lugo
Matthew Lugo is a very interesting one. First of all, he's the nephew of Carlos Beltran. I've said it before but I'll say it here again – when Lugo makes it to the Majors expect to hear that in every National Broadcast. Every game on ESPN, FOX, TBS, and others. That will be their go-to trivia. It will be the baseball version of "Julian Edelman used to play quarterback" and "Chris Hogan plays lacrosse".
Lugo is very much his own person though. The shortstop had an up-and-down season in 2021. The numbers ended up being solid. However, there were a few cold streaks (that some insane hot streaks counteracted). And he had some fielding issues.
The right-handed hitter slashed .270/.338/.364 in 105 games in Low-A this season. He didn't do too much with the power swing, notching 21 doubles, three triples, and four home runs. However, that's something that he absolutely has the chance to develop into something serious.
Lugo managed solid run production with 50 RBI and 61 runs scored. He hit .301 with runners in scoring position, so he has already shown he can hit in clutch situations. Meanwhile, he stole 15 bases and that could be a serious part of his game.
Lugo has potential to hit around .300. He won't strikeout too much and has a pretty decent eye. The power is a question mark. He will likely never be a serious home run threat. That being said, he has plenty of gap power, which could lead to 40-plus doubles and a handful of triples thanks to his speed. As for home runs, he could manage 15 potentially.
The speed is legit and don't be surprised if he turns into a 25-30-plus steal player. He'll give you some runs on the base paths. That being said, any scout will tell you he could lose some speed as his body matures. But only time will tell, as of right now it's a great tool.
The fielding is sort of a weird one to grade. Lugo has all the tools to be very good here. A strong arm and he can get the ball out quickly. He has plenty of range and good footwork. Good glove too. Everything is there on paper. And when you watch him you'll think he's a natural most of the time. However, there are times where he just loses it. The ball will sail on him. It will bounce of his glove. Any number of issues. And it led to 35 errors on the year.
Now, Lugo is only 20. So mistakes are bound to happen. He also is playing in Low-A, which means his teammates are less likely to bail him out with scoops or other good plays. But that number definitely needs to improve. He has all the tools to be pretty great in the field though. Don't let errors in Low-A at 20 years old turn you off to a prospect please.
It sounds wild, especially because I always say I am a big fan of "what have you done for me?" The eye-test and stats are two easy ways to grade a prospect. But sometimes bad defensive and pitching stats especially are hard to grade. Because there are so many factors in minor league baseball.
Overall, Lugo could be a very good offensive player with speed and good contact. He might be able to sprinkle in some power too. Meanwhile, his defense has the potential to be great. But there is also some risk with him. Thank makes it all that much more fun for the Red Sox though, doesn't it?
Hit: 60
Power: 45
Run: 65
Arm: 55
Field: 50
Overall: 55