Boston Red Sox top-30 prospect rankings after the 2021 season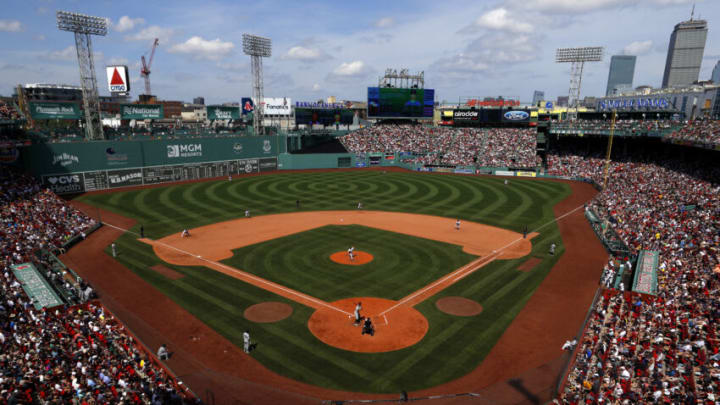 BOSTON, MASSACHUSETTS - JUNE 27: A general view of the game between the Boston Red Sox and the New York Yankees at Fenway Park on June 27, 2021 in Boston, Massachusetts. (Photo by Maddie Meyer/Getty Images) /
Aug 1, 2019; Boston, MA, USA; A general view of the mound prior to the game between the Tampa Bay Rays and the Boston Red Sox at Fenway Park. Mandatory Credit: Gregory J. Fisher-USA TODAY Sports /
No. 18: Red Sox starting pitching prospect Brandon Walter
Brandon Walter is the perfect example of how hard it was to place the prospects in their rankings. I couldn't decide where to put him. At one point, I didn't even have him in the Top-30. At another point, he was sitting at 12. It's been a roller-coaster ride.
The left-handed pitcher has one big thing going against him that made it so hard to place him. That would be the fact that he is 25 and hasn't pitched past High-A yet. There's some good news there though. Walter just turned 25 in September. Meanwhile, he looked phenomenal in 2021. Starting 2022 in Double-A is very strong possibility. With it, there's a legitimate chance he could be in the Majors as soon as late next season.
And as I'm typing all this, I'm once again wondering if I don't have him placed properly. It would make an awful lot of sense to have him sitting somewhere a tiny bit lower.
One of the things you have to love about Walter is how close he is to the Majors, despite not pitching any higher than High-A yet. That's because he seems to already have a lot of what he needs.
In 2021, the lefty tossed 89 1/3 innings between Low-A and High-A. He posted a 2.92 ERA, .199 BAA, and 0.97 WHIP in that time. Walter went 5-4 with two holds and two saves in two opportunities. Perhaps most impressively, he struck out 132 batters compared to 20 walks.
Working with three pitches, he could play a role as a starter or a reliever able to eat innings if needed. And both are something Boston could use.
Walter's fastball sits in the low-mid-90s but he can reach back for 97. The pitch has some two-seam movement to it but it's best property is it's sinking action. As you can tell, there's a good amount of movement. He has good control over the pitch. Definitely a very strong fastball.
His slider works in the low-80s with a good sweeping horizontal-ish break to it. Good command for the most part but sometimes it isn't working as well for him. When it's on though, Walter can drop it in to steal a strike – or toss it away and have a hitter looking stupid.
Finally there's a changeup. And anyone that knows me doesn't need me to tell them – a changeup is my favorite pitch. So I'm happy to tell you Walter's is pretty nasty. Low-mid-80s with tons of movement and great late drop to it. Looks like a fastball out of his hand, but that speed and drop will leave hitters flailing. Good command, but could get a little better. Overall great pitch with even better potential though.
Overall, Walter is in a weird spot. As a 25-year-old who hasn't worked past High-A, he's going to probably have some doubters. There is a lot to love about the lefty though – don't be fooled. He's certainly proving he can dominate in the minors and could make it to the Majors as early as 2022 for the Red Sox.
Fastball: 55
Slider: 60
Changeup: 60
Control: 55
Overall: 55