Boston Red Sox: The dead zone era All-Stars: 1919-1932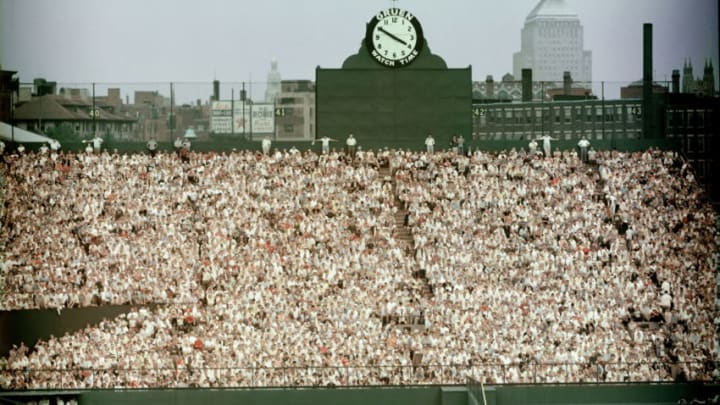 General view of Boston's Fenway Park, home of the American League baseball team the Boston Red Sox shows the fans packed in the bleachers in the outfield by the Gruen clock, 1960s. Beyond the stadium walls we can see the John Hancock Building at right. (Photo by Hulton Archive/Getty Images) /
NEW YORK – 1933. In 1933 the Goudey Gum Company issues cards like this one of the New York Yankees' pitcher Red Ruffing to sell their chewing gum. (Photo by Mark Rucker/Transcendental Graphics, Getty Images) /
Pitching
In the past, I have started with position players but this time around it will be the strength of the Red Sox in the Dead Zone period and that is the pitching. As baseball depressing as COVIV-19 is the arms that Boston sent elsewhere with elsewhere being the New York Yankees is tragic.
Right-hander Red Ruffing twice led the AL in losses with the Red Sox. A miserable 19-47 record in 1928-29 but Ruffing was rescued with a trade to the Yankees. As a Yankee (231-124) Ruffing made it to the HOF and with the Red Sox (39-96). Ruffing spent two years in the military late in his career or he might have bagged 300 wins.
Another member of the HOF based on his Yankee production is my lefty entry Herb Pennock. Pennock came to Boston via the A's and established himself as a productive part of the staff after missing out on the 1918 World Series and season due to military service. Slowly the pieces of that great Red Sox team went south as did Pennock's record. In 1922 Pennock went 10-17 and off to the Yankees where Pennock flipped that record to 19-6.
Honorable Mention: In 1921 Sad Sam Jones went 23-16 for the Red Sox and was rewarded by being shipped to you know who. Fellow righty Bullet Joe Bush was 16-9 in his 1921 Red Sox season and the following year 26-7 for the *sigh* Yankees.  Waite Hoyt was shipped to NY in time to go 19-13 in 1920 and eventually to the HOF. Likewise, Carl Mays doesn't fit the timeframe but is representative of another arm sent to the Yankees where Mays twice led the AL in wins. Enough is enough. On to position players.