Boston Red Sox Memories:All-decade 1960's Red Sox team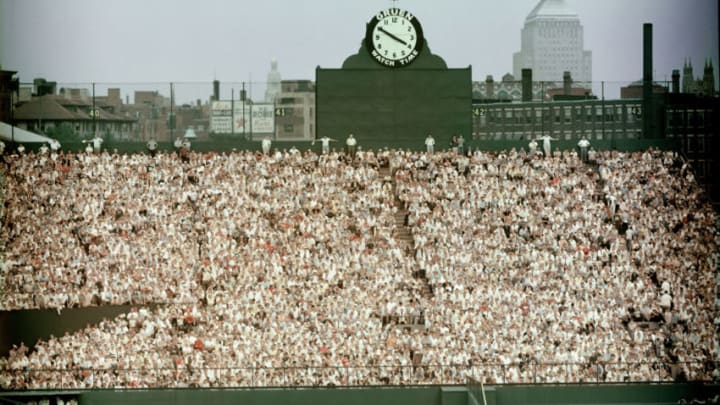 General view of Boston's Fenway Park, home of the American League baseball team the Boston Red Sox shows the fans packed in the bleachers in the outfield by the Gruen clock, 1960s. Beyond the stadium walls we can see the John Hancock Building at right. (Photo by Hulton Archive/Getty Images) /
(Photo by Boston Red Sox) /
Third Base
This will be a bit backward since the honorable mention is an overlap from the previous decade – Frank Malzone. Malzone was still a solid player through the first half of the decade even making two All-Star teams (1963-64) but I will go to a player that shows talent wasted in Joe Foy. Yes – it should be Malzone, but Foy is a lesson to be learned.
Foy was given the third base job by manager Williams and became an incessant target of Williams for the next few seasons. Was it Foy's lack of conditioning? His sloppy play at third base? Or – as some have suggested – race?
Foy was a powerfully built right-handed hitter who hit .262 in his 1966 rookie year. Foy had a great eye at the plate and drew 91 walks that inaugural season – second-most in the AL. After that season the walks diminished and so did the batting average. In 1967, Foy did slam 16 home runs and make 27 errors. Despite his accumulation of weight, Foy could still move and swiped 26 bases in 1968 and another 37 with the Royals the following season. Why the Royals?
There were rumors about Foy that went beyond his conditioning and some of that surfaced later when he was with the Mets. But for the expansion draft to fill the roster of the new Royals, the Red Sox had Foy available and he was gone. The Royals traded Foy to the Mets for Amos Otis in a historically successful trade. From the Mets, Foy went to the Senators for a year and then gone.  Drugs and weight. Foy died of a heart attack at just 46 years-old.